This deal has ended
Bury a Gutter Downspout (Parts Included)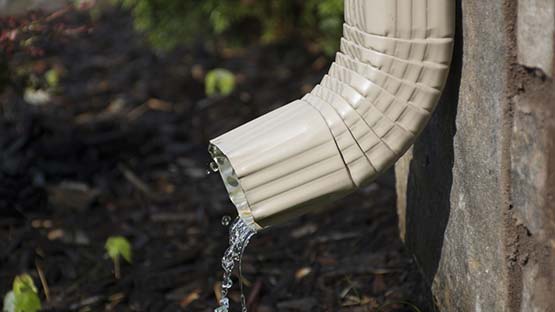 Get a gutter downspout buried up to 10 feet away from your house for only $159 per downspout (normally a $300 value).
Chris Light Co will dig the trench, install the drainage pipe and pop-up drain, and put your sod and landscaping back in one piece. Parts are included. More than one downspout? No problem. Please buy one deal for each downspout that you'd like to bury.
Three Options
1. Flexible Black Corrugated ($159)
2. Solid White PVC ($219)
3. Solid White PVC + Clean-Out Valve ($249)
Upgrade to White PVC with a Clean-Out Valve
Benefits
Burying a gutter downspout helps move water further away from your foundation than regular splash blocks that discharge next to your foundation. It also improves the appearance of your home by hiding down spouts underground and out of view. And you don't have to worry about tripping over or mowing around obtrusive splash blocks any longer.
Details
Chris Light Co will install your drain pipe professionally, making sure the drain is flush against the house, secured tightly to your downspout, and aligned straight up and down from the downspout (when possible). 4 inch corrugated pipe is used to allow maximum water flow while providing reliable clog free drainage for years to come. And finally, a pop-up drain will be installed to conceal the drain when not in use.
Please note that this deal does not include sump pump drains. Please call Chris Light Co directly at (913) 851-5882 for an estimate to have your sump pump drain buried.
Drainage Line Repair
If your downspout is already buried but no longer drains properly, you may use this deal to replace your broken downspout drainage line.
Scheduling
After you buy your deal online, there's no need to call to schedule an appointment. In order to offer this great price, service will be performed by neighborhood. Please note that sales volume, weather, and other factors may impact when your service can be performed. Every effort will be made to complete service in a timely manner.
Contact
If you have any questions, please email
chris@chrislightco.com
or call (913) 851-5882.
Additional Services
Chris Light Co can also install french drains and help you with all your drainage needs. Be sure to get their advice during your service appointment.
Restrictions
Offer may be purchased through 4/20/2020. Paid Value Never Expires. Promotional Value Expires 9/30/2020. Includes up to 10 feet of drainage pipe. Further distances, if required or requested, with your prior authorization will incur additional fees. A clear path is required. Obstacles may prevent drainage pipe from being buried such as concrete sidewalks, sprinkler lines, or roots. You will be given the option to receive a full refund or pay an additional fee to work around or move the obstacle. Not valid with other offers. No cash value. Merchant is solely responsible to purchasers for the care and quality of the advertised goods and services.
This deal is not offered in your zip code - . Be sure to update your service zip code at checkout if you still want to buy the deal.
Before You Buy!