This deal has ended
Sprinkler Tune-Up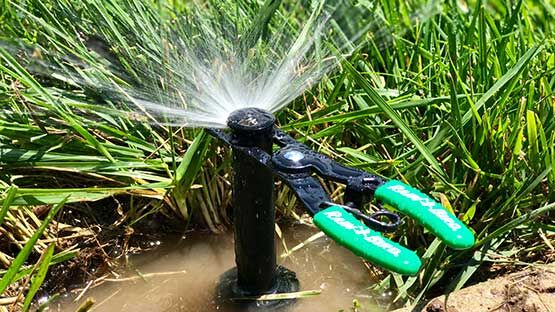 Get a Sprinkler Tune-Up from one of Kansas City's best irrigation companies to help keep your grass green this summer, and your system running efficiently.
Don't wait!
A limited number of deals are available.
JOCO Lawn & Turf will conduct a 6-step sprinkler tune up for up to 10 sprinkler zones.
6 Step Tune-Up
1. Set optimal start time
2. Turn on your sprinkler system one water zone (valve) at a time, and walk each zone
3. Inspect for visible leaks.
4. Set optimal run times for each zone to keep your lawn green and save water
5. Check for adequate water pressure
6. Assess each zone for water wasting problems
Water Pressure Problems
JOCO Lawn and turf will adjust any water pressure problems to confirm effective and efficient watering. Pressure may be too high if you see "misting" (water that sprays into the air and drifts away before it reaches your lawn) or if pop-up sprinklers don't rise all the way. Pressure may be too low if you see water dribbling (instead of spraying) from sprinklers, which reduces sprinkler efficiency.
Water Wasting Problems
JOCO Lawn and turf will adjust misdirected or tilted sprinklers that water the sidewalks, street, fence, and any other area that shouldn't be watered. They will also locate where water is running off your lawn or planting beds onto the pavement, then make adjustments to reduce runoff by dividing your watering cycle into multiple shorter periods to allow better absorption into your lawn.
Scheduling
After you buy your deal online, there's no need to call to schedule an appointment. In order to offer this great price, service will be performed by neighborhood. Please note that sales volume, weather, and other factors may impact when your service can be performed. Every effort will be made to complete service in a timely manner. Major repairs, such as leaks, may require an additional appointment.
Contact
If you have any questions, please email
info@jocoturf.com
or call 913-522-0880.
Additional Services
- JOCO Lawn & Turf can assist you with additional irrigation services, such as repairs or installation.
- JOCO Lawn & Turf will provide an estimate for any work needing done outside of the description above.
- Missed Appointments: $25 to reschedule
- Zone Overage: $7 per zone (over 10 zones)
Restrictions
Offer may be purchased through 7/3/2023. Paid Value Never Expires. Promotional Value Expires 12/31/2023. Limit 1 per lawn up to 10 zones. Additional zones are $7 each. Person 18 years or older must be home for service. No cash value. Not valid with other offers. Merchant is solely responsible to purchasers for the care and quality of the advertised goods and services.
This deal is not offered in your zip code - . Be sure to update your service zip code at checkout if you still want to buy the deal.
Before You Buy!