This deal has ended
Mulch Delivery and Installation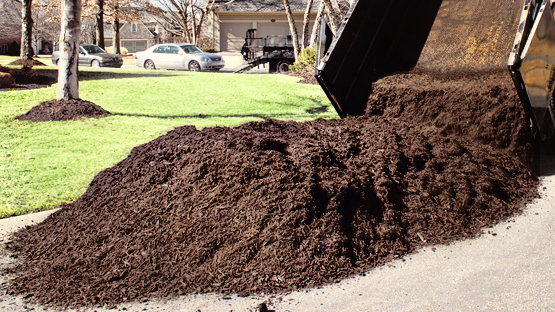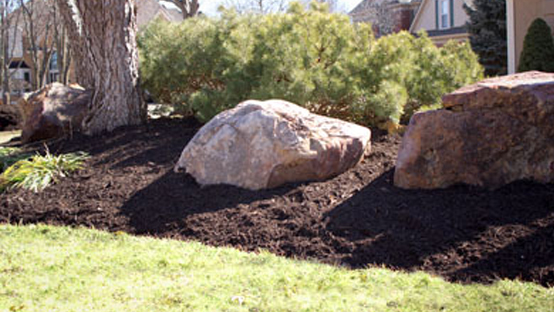 Avoid hours of work hauling and spreading mulch this year and get an amazing deal at the same time! DS Lawn Care is offering 6 cubic yards of premium dark coffee brown colorized hardwood mulch for the incredible price of $449 (normally a $570 value). That's enough mulch to cover nearly 1000 square feet at a depth of 2 inches.
DS Lawn Care will deliver the mulch to your home, and the best part is -- they will install it too! DS Lawn Care does all the work, and your landscape beds, trees and other landscaping will look simply beautiful this spring.
View a high-resolution close-up photo of the mulch included in this deal
The mulch included in this deal is the highest quality hardwood mulch in Kansas City that includes a durable high-quality colorant to help ensure a rich look all-season long.
Mulching your landscape helps keep the soil temperature even, prohibiting extremes of too hot or too cold year round. Mulching also encourages moisture retention and drainage, which is especially important given the hot summer temperatures. It also reduces weeds and provides the perfect setting for your plants! Mulch is most effective when flower beds are clean before application and the beds and tree wells are edged for a clean, neat appearance.
Please note: mulch installation does not include clean-up of flower beds and landscape areas. Please remove weeds and other debris to ensure timely and proper installation of mulch. Or have DS Lawn Care take care of it for you for an additional fee.
Additional Services (pricing details):
For customers that purchase this DIMBY deal, you may purchase additional services at a reduced rate as shown in the table below:
 

Service

 

Price

 Clean-Up
 

$38 per hour

 Edging
 

$1 per linear foot
To request additional services, simply let DS Lawn Care know which services you'd like when they call to confirm your installation date. Any additional services will be invoiced by DS Lawn Care.
Details and Schedule
This special deal is only available for the homes within the neighborhoods that have received this offer. Please do not purchase the coupon for properties outside your neighborhood.
In order to offer this high-quality product at such a low price, mulch installations will be scheduled by neighborhood. After you purchase your DIMBY deal online, DS Lawn Care will call you prior to your neighborhood's scheduled installation date.
Please note that if you would like an estimate for additional services you must call DS Lawn Care prior to your scheduled installation. Otherwise, there's no need to call. If you have questions or special requests, please contact DS Lawn Care at 913-461-5321 or by email at
info@dslawnkc.com
.
Restrictions
Offer may be purchased through 4/1/2019. Paid Value Never Expires. Promotional Value Expires 7/31/2019. Limit 2 vouchers per home (12 cubic yards). Includes delivery and installation of dark coffee brown colorized mulch. Offer may NOT be split between multiple service address. Additional services to be invoiced by DS Lawn Care. No refunds after installation. 24-hour cancellation notice required or $50 "go-back" fee applies. No cash value. Not valid with other offers. Merchant is solely responsible to purchasers for the care and quality of the advertised goods and services.
This deal is not offered in your zip code - . Be sure to update your service zip code at checkout if you still want to buy the deal.
Before You Buy!